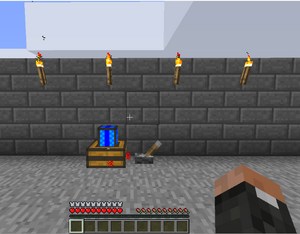 The redstone engine is the most basic and also weakest engine in BuildCraft. All it needs to run is a redstone current, this can easily be done by placing a lever on the block beside it. These engines can not explode. To mine it, it requires at least a Wooden Pickaxe.
To build a redstone engine you'll need:
1 Piston
1 Glass
3 Wooden Planks

The 3 wooden planks fill the top row. The glass is in the middle, the 2 wooden gears are on both sides in the bottom row and this piston is in the bottom center.
Video Tutorial
Edit
Ad blocker interference detected!
Wikia is a free-to-use site that makes money from advertising. We have a modified experience for viewers using ad blockers

Wikia is not accessible if you've made further modifications. Remove the custom ad blocker rule(s) and the page will load as expected.