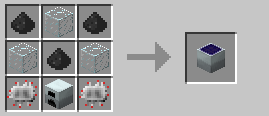 Solar panels generate electrical energy using the power of the sun and so therefore only work during the day with a clear view of the sky. They do not work in the End or the Nether.
Recipe: 3 Coal Dust, 3 Glass, 2 Electronic Circuits and a Generator
Raw Materials:
5 Refined Iron
5 iron
6 Redstone Dust
9 Copper
13 Rubber
3 Sand
3 Coal
4 Tin

Solar panels may also be crafted into a Low Voltage Solar Array - using 8 solar panels and a LV-Transformer. A low voltage solar array is much more efficient than a solar panel and only takes up one block of space. One can also create medium and high voltage solar arrays.
Video Tutorial
Edit
http://www.youtube.com/watch?v=NX3l1OCCJPQ
Solar panels produce energy at 1 EU/t (Bad Weather e.g. storms, decreases production) and can be outputed from anyside except the top. Daily output = 13050 EU/day